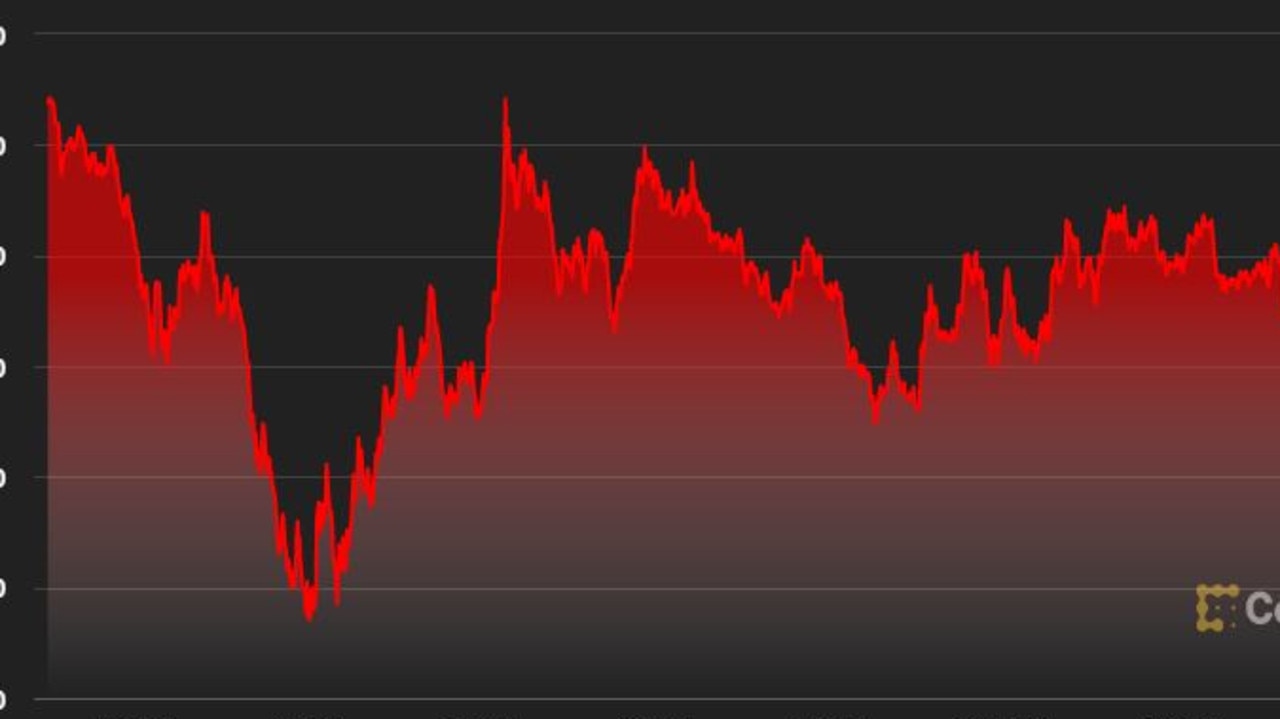 If bitcoin dips below this level, it could be game over for the cryptocurrency. And it's only $800 away from that point.
The world's top ranked cryptocurrency is nearing a dangerous level after five consecutive days of drastic drops in price.
In the last 24 hours, bitcoin hit a low of US$20,834 but was trading slightly higher at time of writing, at US$21,442.
However, an expert has warned that if BTC dips below the all-important $20,000 mark, it could spell disaster for the blockchain.
In the same way, the future of the world's second largest cryptocurrency, ethereum is also in doubt.
It was trading at $1,075.28 during its lowest point in the last day.
An expert has warned that if bitcoin slips below $20,000 and ethereum below $1000, then "massive sell pressure" will ensue which will further drive down prices.
Arthur Hayes, former BitMEX chief, took to Twitter to voice his concerns.
"If these levels break, $20k $BTC & $1k $ETH, we can expect massive sell pressure in the spot markets as dealers hedge themselves," Mr Hayes wrote.
"We can also expect that there will be some otc dealers and that will be unable to hedge properly and might go belly up.
He continued in his Twitter thread: "As far as the charts go, you better get out your Lord Satoshi prayer book, and hope the lord shows kindness on the soul of the crypto markets.
"Bc [because] if these levels break, you might as well shut down your computer bc [because] your charts will be useless for a while."
The bitcoin and ether token have been suffering, as have the rest of the world's cryptocurrency in the wake of economic turmoil and major crypto exchanges pausing transactions.
Around midday on Monday, UK-based Celsius pays interest on cryptocurrency deposits, loans them out and also sells its own token, CEL, but it ceased all activities around midday on Tuesday.
In a blogpost the company warned it was "pausing" all withdrawals and transfers between accounts, adding: "Due to extreme market conditions, today we are announcing that Celsius is pausing all withdrawals, swap, and transfers between accounts.
"We are taking this action today to put Celsius in a better position to honour, over time, its withdrawal obligations."
They have currently still frozen all their customers' accounts.
In response, cryptocurrency's total market cap dipped drastically below US$1 trillion. At time of writing, it was resting at US$924 billion.
Cryptocurrency has been facing a reckoning in recent weeks – and particularly the last few days – as fears mount over a global recession amid rampant inflation and the US central bank hiking interest rates.
On Friday, data found the USA's inflation rate had reached a new high — rising to 8.6 per cent in May, the worst its been since 1981.
Over the weekend, cryptocurrency plunged in reaction to the news.
This Wednesday, the US Federal Reserve is expected to raise its interest rate to combat spiking inflation.
Economists predict the rate will be increased to settle on 0.25 per cent or 1.50 per cent for July, with the central bank doing a similar thing last month.
Cryptocurrency is closely aligned with the traditional stock market and over the last few days, markets like Dow Jones have tanked and entered a bear run.