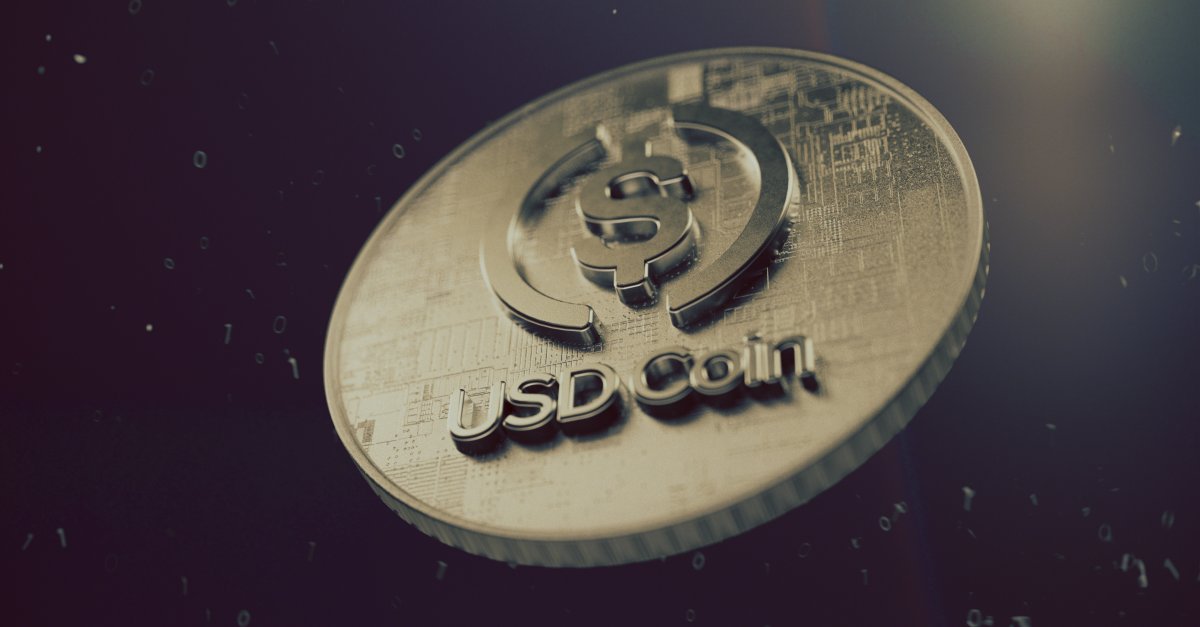 USD Coin (USDC), the world's second largest stablecoin by market capitalisation, has been eating into leader Tether's (USDT) market share over the years. 
Market leader Tether's hiccups with regulators with regards to the transparency of its stablecoin reserves set the stage for the "more-transparent" USDC to push for the number one spot.
USDC emerged as the winner after the collapse of Terra's algorithmic stablecoin TerraUSD (UST) as investors and traders flocked into other stablecoins. As a result, USDC saw its circulating supply jump nearly 10% in May. 
What is USD Coin (USDC)? Is the USD coin value expected to be stable in the future? Today, you will find all the important information you need to know about USDC and its future projections.
USD Coin analysis: Winner of the UST crisis
The USD (USDC) stablecoin launched in September 2018. It's pegged to the US dollar on a 1:1 basis. The coin is offered by the Centre Consortium, an organisation founded by the Coinbase crypto exchange (COIN) and fintech company Circle.
Stablecoins like USDC are integral to the cryptocurrency ecosystem as they bridge traditional finance and digital asset markets. Fiat currencies can be converted into USDC on crypto exchanges for use in crypto trading, lending and borrowing, and to gain access to decentralised applications (dApps). 
Individuals can use USDC for payments and international remittances. The stablecoin also gives US dollar exposure to holders and acts as a store of value in volatile cryptocurrency markets. USDC holders can earn yield on their USDC deposits on various decentralised finance (DeFi) protocols, like Aave (AAVE) and Compound (COMP).
USDC provides full transparency and publishes attested reports regarding its reserve balances. Accounting firm Grant Thornton LLP is responsible for attesting and reviewing USDC reserves on a monthly basis.
According to its website, USDC is a "fully regulated dollar digital stablecoin". Its weekly USDC reserves breakdown showed that USDC worth about $54bn was in circulation, as of 3 June 2022, of which about 13bn of USDC reserves were held in cash and about $41bn in short-duration US treasuries.
BlackRock and Bank of New York Mellon are among the financial institutions that manage and act as custodians of USDC reserves.
USDC is built on top of an open-source fiat stablecoin framework developed and managed by Centre. The stablecoin is natively supported across multiple blockchain networks, including Ethereum (ETH), Solana (SOL), Algorand (ALGO), Stellar (XLM), Avalanche (AVAX), Flow (FLOW), Hedera (HBAR) and TRON (TRX).
USD Coin emerges stronger after UST collapse
Stablecoins gained the spotlight in the first half of May as Terra-based algorithmic stablecoin UST collapsed after seeing capital flight from its ecosystem.
UST, which was for a time the third largest stablecoin by market capitalisation, started seeing its value trade below its dollar peg on 7 May. Luna Foundation Guard, an entity created to protect UST's peg, failed to protect UST from falling despite deploying its 80,000 bitcoin warchest then worth about $2.7bn. 
Shaken by the dramatic depegging of UST, investors began exiting their Tether holding fearing a similar event. 
"The largest stablecoin, Tether, does reportedly have around 85% of its reserves in cash and cash equivalents and the rest in other assets such as corporate bonds and other digital tokens. However, Tether has earlier faced controversies when it comes to transparency around its dollar reserves, so the market has for years questioned what assets its reserve consists of and whether Tether in reality keeps full reserve to back its stablecoin,"
said
Anders Nysteen, senior quantitative analyst at Saxo Bank, in a note.
On 12 May, Tether fell to a low of $0.941. The stablecoin slipped again from its peg on 2 June to hit a low of $0.9949.
"These controversies are likely what is driving stablecoin investors away from USDT, as the event of UST has refreshed the market's memory of Tether's lack of transparency with respect to its reserve," added Nysteen in a note dated 12 May.
Following UST's collapse, many investors turned to USD Coin for its presumed security and reserve backing. In the last one month, USDC added nearly $5.5bn to its market cap, as of 6 June, while USDT has lost about $10.7bn in value in the same period.
"The second-largest stablecoin USDC is, however, backed 100% by reserves in cash and cash equivalents such as short-term highly liquid investments. This is fundamentally different from the collateral in UST, and USDC is thus seen as a much more stable peg to the US dollar," said Nysteen.
USDC outlook: Stablecoin regulations are coming 
Important USD Coin news in the aftermath of the loss of billions of dollars due to the collapse of UST is a regulatory drive.
On 3 June, Japan became one of the first nations to introduce stablecoin regulations. The new law stated that only licensed banks, registered money transfer agents and trust businesses can issue stablecoins.
What is your sentiment on USDC/USD?
Vote to see Traders sentiment!
The bill also stated that stablecoins must guarantee holders the ability to redeem at face value.
In the US, a report on stablecoins published by the US Department of the Treasury in November 2021 recommended the Congress to "act promptly" to enact stablecoin legislation.
"The rapid growth of stablecoins increases the urgency of this work. Failure to act risks growth of payment stablecoins without adequate protection for users, the financial system, and the broader economy," read the report.
"Failure of stablecoins to maintain a stable value could expose stablecoin users to unexpected losses and lead to stablecoin runs that damage financial stability," said the November 2021 report.
UST's meltdown in early May brought stablecoin regulations back into the spotlight with US Treasury Secretary Janet Yellen calling for urgent regulations.
"I wouldn't characterise it at this scale as a real threat to financial stability, but they're growing very rapidly and they present the same kind of risks that we have known for centuries in connection with bank runs," said Yellen to the House Financial Services Committee on 12 May, as reported by Bloomberg.
USD Coin (USDC) price analysis
"It is expected that in the future USDC will potentially succeed USDT as the largest stablecoin protocol by market capitalization."
by Huobi Ventures
Historical chart data from CoinMarketCap showed that USDC has maintained a stable peg since October 2020. However, the stablecoin has fallen off its peg a number of times. It fell to an all-time low of $0.9292 on 13 March 2020.
Data from The Block showed USDC has grown its total stablecoin supply share from about 8% at the start of 2020 to nearly 30% by early June 2022. USDT's total stablecoin supply share stood at about 50%, as of 6 June. 
USDC is the fourth largest cryptocurrency by market capitalisation after bitcoin (BTC), ether (ETH) and tether (USDT), as of 7 June. In the past one year, USDC's market cap has more than doubled from about $23bn to $53.7bn, as of 7 June.
Crypto-focused investment firm Huobi Ventures said in a report a "more compliant" USDC is growing strongly and is favoured by institutions.
"Stablecoins have enabled more assets to be injected into DeFi, accelerating DeFi's growth, while stablecoin interaction is an integral part of DeFi's business, and USDC plays an extraordinary role in this – meeting regulatory and institutional needs while freely interacting with on-chain assets in the DeFi protocol. It is expected that in the future USDC will potentially succeed USDT as the largest stablecoin protocol by market capitalization," said Huobi Ventures.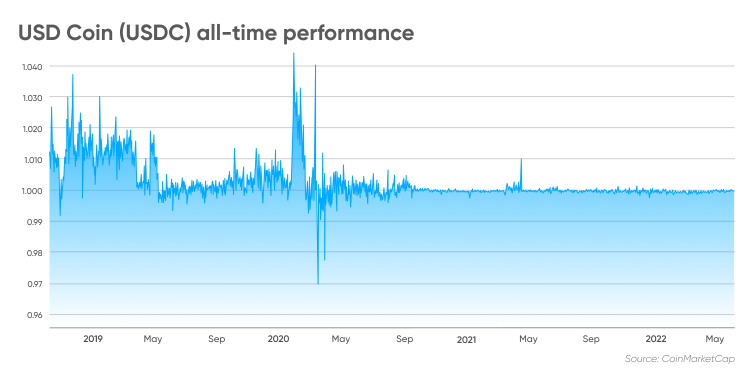 USD Coin (USDC) price prediction: Target prices for 2022-2025, 2030
As of 7 June, algorithm-based forecast site Wallet Investor expected the USDC/USD price to remain largely pegged to the US dollar over the next five years. 
Wallet Investor's USDC forecast saw the stablecoin maintaining an average price of $1 in 2022. Its USDC price prediction for 2025 and 2027 saw the coin maintaining an average price between $0.999 and $1.002.
DigitalCoinPrice's USD Coin price prediction saw the price reaching $1.01 in July 2022 from $1 in June and holding at that level in 2023, 2024, 2025 and for the rest of the decade to 2030. Algorithm-based forecasters didn't provide longer-term USDC predictions  for 2040 and 2050.
When considering any USD Coin predictions, it's important to keep in mind that cryptocurrency markets are very volatile. Analysts and algorithm-based forecasters can and do get their expectations wrong.
If you are interested in trading cryptocurrency tokens like USD Coin (USDC), we recommend that you always do your own research. Look at the latest market trends, news, technical and fundamental analysis, and expert opinion before making any trading decision. Keep in mind that past performance is no guarantee of future returns. And never trade money that you cannot afford to lose.
FAQs
Stablecoins are designed to be pegged to fiat currencies like the US dollar. However, stablecoins losing their value is not unheard of. Most recently, algorithmic stablecoin TerraClassicUSD (USTC) – a new version of UST – fell off its dollar peg to trade at $0.015, as of 7 June 2022. 
According to algorithm-based forecasting tool Wallet Investor, as of 7 June, USDC could keep its peg to the US dollar over the next five years.